THE GREAT RACE BEER LAUNCH PARTY WITH MOUNTAIN CULTURE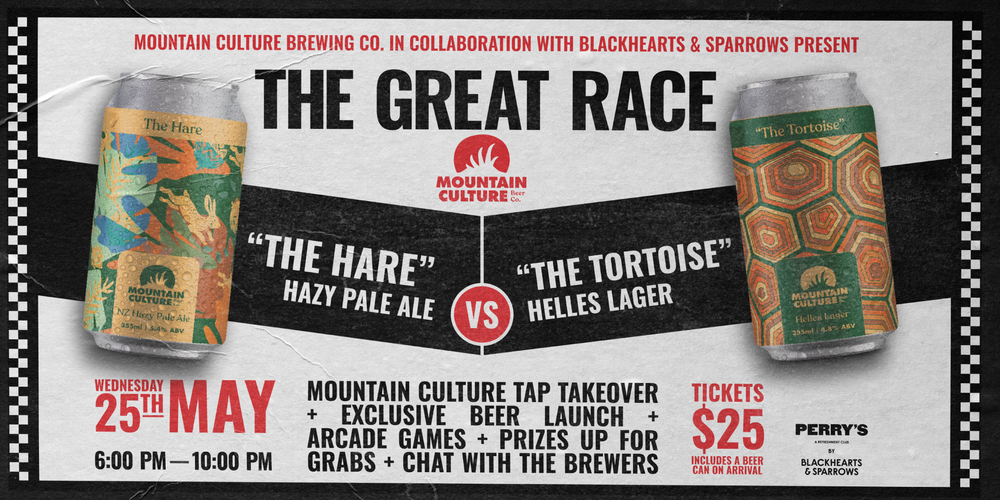 THE GREAT RACE BEER LAUNCH PARTY WITH MOUNTAIN CULTURE
Celebrate the launch of not one, but two(!) collab beers made with our pals, Mountain Culture! Kicking off at 6pm, Wednesday 25 May
16 May 2022
by The Blackhearts Crew
Sure, there are lessons to be learnt from The Tortoise and The Hare, but we're choosing to focus our attention on the friendly rivalry at hand.
We're inviting you to join us in celebrating the launch of not one, but two(!) collab beers made with our pals, Mountain Culture! Enjoy an evening of good-natured competition, chats with the brewers and a first taste of the collab beers before the pair hit shelves.
It's time to do your stretches and sharpen your aim because for one night only, Perry's: A Refreshment Club will lay the ground to battle more than just beers.
First in the ring is a NZ Hazy Pale Ale (The Hare) weighing in at 5.4% with vibrant lime and passionfruit flavours, supercharged with grapefruit that NZ hops are known for. Its challenger: a Helles Lager (The Tortoise) weighing in at 4.9%, a clean, crisp competitor hiding a complexity that comes from decades of slow and steady development.
Cheering for both sides will be the Mountain Culture team themselves. As Katoomba locals, our friendship was formed over closed borders so we're pretty chuffed to finally be able to share a beer together. In town for a week of beer and chin wags, this is the first chance many of us Melburnians will have to chat with the brewers about all things Mountain Culture and hear which beer they think is a shoo-in for the title.
Supporting our pair of new collab beers will be a full lineup of rare and exclusive Mountain Culture brews on offer, and a mystery keg to really put your tastebuds to the test. If you're caught up in the competitive spirit, we've got games galore so you can battle your mates for the next round of beers! Maybe age has sharpened your skills... or maybe beer has made them worse?
Tickets include entry to the event, your choice of collab beer on arrival, carnival snacks, and priceless access to ultimate gaming glory.
Kicking off at 6pm, Wednesday 25 May, get ready for an evening of friendly competition, on and off the taps...
Tickets: $25
Date: Wednesday 25th May 2022
Time: 6pm-10pm
The Fine Print:
All event attendees must comply with current government COVID-19 regulations. In the event of a lockdown or similar, refunds will be available. Cancellations less than 48 hours before the event will not be refunded.
We know life's messy and things get in the way, so if you can no longer make this event, please reach out and let us know. We're here to help and find the best solution.